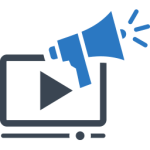 Media Literacy and Fake News replay
with Karen Bonanno, National Director, Eduwebinar
[Note: As Daylight Saving Time has commenced in Australia please check the time of this event in your time zone at Event Time Announcer.]
Young people tend to be fooled by "fake" news and, for most, they get their news from social media platforms rather than traditional news sources.
Recent studies reveal that students struggle to clearly identify what are "real" news stories, with a percentage of students indicating they had shared news stories online that they later found were wrong or inaccurate.
This session will share some of the research findings and then explore the following:
what is media literacy and why we need to teach it to our students;
what is fake news and the importance of lateral reading;
teaching strategies to identify and analyse fake news;
classroom activities with simple rubrics; and
digital resources to support classroom programs.
What previous attendees had to say about this digital broadcast:
"The content was relevant and easy to follow."
"Very useful information, particularly the examples shown and the links provided. The statistics at the beginning provided a great framework for why this is so important."
"Looking forward to exploreing the resources shared and how I might use these with my students & share with staff at my school."
"Great webinar – timely topic and well presented."
Karen Bonanno has over 35 years experience working across difference education sectors and with professional associations. As the National Director for Eduwebinar she is involved in planning and hosting webinars that cover primary and secondary education with specific focus on innovative teaching and learning strategies and resourcing as it applies to curriculum design and delivery. Her work at Eduwebinar helps teachers attain their hours of professional learning in a virtual, stress-free environment in the comfort of their home.
For all States and Territories:
This webinar addresses the following Australian Professional Standards for Teachers.
3.3.2 – Using teaching strategies
3.4.2 – Select and use resources.
Please check the time of this event in your time zone at Event Time Announcer
[Subscribed members, please log in to register for this event. Your membership subscription includes access to this webinar.]