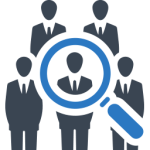 How to Lead from the Library: Building your Leadership Skills
with Dr Kay Oddone, Project Officer: Learning Designer, USQ
Leadership is inherent with the teacher librarian's role, yet the value of leadership development for those holding this role is potentially underestimated. While teachers aspiring to or holding more traditional school leadership roles may engage with leadership training and literature, similar opportunities for teacher librarians appear less commonly.
Through this webinar, teacher librarians will be encouraged to recognise, and build upon their leadership skills. Participants will refresh their knowledge of leadership styles and consider the different ways in which they enact strategic leadership through their daily practice. Feeling confident and comfortable with the language of leadership will also be discussed, as the capacity to communicate the contributions of the teacher librarian role and the school library is vital for advocacy and professional recognition within the school community.
Upon completion of this webinar, participants will be able to:
identify the styles of leadership they are most comfortable with.
recognise how shifting one's approach to leadership can be useful for leading in different situations.
describe the ways in which TLs provide strategic leadership across the different facets of the role.
appreciate how effective leadership relies upon self-awareness and relationship building.
Dr Kay Oddone has over 20 years of experience in the fields of education and information management. She has taught at all levels from Prep through to Post Grad and has held a variety of roles including Assistant Principal, Teacher Librarian, Learning Designer and Lecturer. You can find Kay on Twitter as @KayOddone, and read more about her work on her online portfolio at www.linkinglearning.com.au
For all States and Territories:
This webinar will provide self-identified professional development addressing the following Australian Professional Standards for Teachers at the Proficient level:
6.2 – Engage in professional learning and improve practice
6.4 – Apply professional learning and improve student learning
7.4 – Engage with professional teaching networks and broader communities
Please check the time in your time zone at Event Time Announcer
[Subscribed members, please log in to register for this event. Your membership subscription includes access to this webinar.]