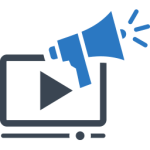 Find Your Voice: Tips on Becoming a Confident Presenter
with Karen Bonanno, National Director, Eduwebinar
[As we are in Daylight Saving Time in Australia, please check the time of the webinar for your time zone, e.g. NSW, ACT, VIC, TAS = 8.00 pm, QLD = 7.00 pm, SA = 7.30 pm, NT = 6.30 pm, WA = 5.00 pm]
BTW – It's not too late to register as you will get access to all the webinars in the series even if you cannot attend for the full 5-weeks, but you will need to register.
Do you want to be seen as an authority in your profession, or as a good leader, or do you want to develop your skills as a professional learning presenter, or build your workplace credibility?
There a numerous times when you can be called upon to present on the work that you are doing in the classroom, library, school, or extra-curricular programs. It could be for a staff meeting or professional learning day, or it could be for a conference or for a local network group.
This 5-week webinar series will provide you with tips on becoming a better presenter so you can confidently share your knowledge, expertise and capabilities.
Dates:
Wednesday, 17 October
Wednesday, 24 October
Wednesday, 31 October
Wednesday, 7 November
Wednesday, 14 November
We will cover the following topics:
Planning for your presentation – Identify content; decide on the best format & presentation style; know the audience.
Promote your presentation – Explore different ways to get the message out there.
Preparing your presentation – Structure the presentation for the best impact; include 'story, practical examples & case studies; practice & rehearse.
Presenting your presentation – Dress to impress; cater for learning styles; encourage audience interactivity; have a plan 'B'.
Leveraging your presentation – Gather feedback; explore multiple ways to repurpose the content.
Karen Bonanno has been a provider of professional learning well before it became necessary to be a registered or accredited government provider. She has over 35 years' experience working in government and non-government schools as a secondary teacher, teacher librarian, head of department, acting deputy principal, regional advisor, education officer and education consultant. During this time she has presented professional learning content via face-to-face and virtually, at local events in her district, at state & national conferences, and at the international level.
This is a Teacher Identified Professional Learning Course.
[NOTE: A percentage of your registration fee will go towards providing sets of stationery for underprivileged students studying at Burmese schools. This is Eduwebinar's commitment to the United Nations Sustainable Development Goal for Quality Education. You can find out more about all the projects at B1G1.]
[Subscribed members, please log in to register for this event. Your membership subscription includes access to this webinar.]