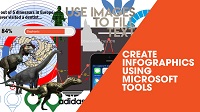 Creating Infographics Using Microsoft Tools
with Brendan Kelly, Digital Media Officer and Cathy Oxley, Director of Information Services, Brisbane Grammar School
[As we are in Daylight Saving Time in Australia, please check the time of the webinar for your time zone, e.g. NSW, ACT, VIC, TAS = 8.00 pm, QLD = 7.00 pm, SA = 7.30 pm, NT = 6.30 pm, WA = 5.00 pm]
Data is playing an ever-increasing role in everything we want to learn about or improve. Traditionally, we sought out statistics to help us understand data. This method no longer sufficiently caters to the needs of the 21st century information interpreter. Infographics are the evolution of statistical data or information when enhanced through visual symbology to effect clearer and more rapid cognition of information. They make information sharing more potent and effective.
Infographics need not be solely the domain of the digital content creator. This session will explore some of the free tools that can be used to assist creators to make infographic objects, but more importantly, users will learn how to create compelling infographic media using typical software they have likely been using since before the turn of the century!
Outcomes for attendee:
Understand the importance, relevance and impact infographics can have when displaying information
Gain knowledge of a range of free infographic creation resources that can be accessed
Create infographic elements using standard Microsoft applications.
Brendan Kelly has enjoyed working across a range of academic and public libraries for the last fifteen years culminating in finding his dream job in digital media for one of the best performing schools in Australia. He works with teaching staff to enhance their capacity to create and deliver high quality digital learning resources as well as directly with students to increase their digital literacy skills. The unique and very special link between library services and education delivery and outcomes motivates his passion to explore meaningful ways to integrate technology into the mix.
Cathy Oxley has worked as a teacher librarian for nearly 30 years in both primary and secondary schools and, since 2009, has been Director of Information Services at Brisbane Grammar School, overseeing the three libraries at the school. She has presented locally, nationally and internationally during this time at many conferences and events and has also written articles for various library journals including ACCESS, Synergy, and International Information & Library Review. She has been a member of the Queensland School Library Association Brisbane sub-committee for nearly 20 years, with the last six years as President. In 2017 she was awarded Queensland Teacher Librarian of the Year.
This is a Teacher Identified Professional Learning Course
Please check the time in your time zone at Event Time Announcer
[Subscribed members, please log in to register for this event. Your membership subscription includes access to this webinar.]