School Libraries During and Post COVID-19
Hosted by Karen Bonanno, Eduwebinar, with members and contributors for Students Need School Libraries
21 May 2020
Many school library staff have responded to the changes triggered by COVID-19. There has been a need for a rapid response to how services, resources and programs are delivered to meet the needs of students, staff and the school community at this critical time. We are all at different phases of response and recovery to the lockdown. Even so, it will be necessary to consider what is sustainable beyond COVID-19.
In this free digital broadcast, I will be joined by Holly Godfree, Lori Korodaj, Madison Dearnaley, Sarah Love, Belinda Cameron and Maggie McMahon. Together we will share and discuss ideas, experiences and strategies on the way school library personnel responded to the change. We will also explore how we need to think strategically about what happens in the next phase.
This is a Teacher Identified Professional Learning Course. [Note: A certificate of attendance can be downloaded at the end of the broadcast.]
You will need to register in our replay system to view this broadcast. You can choose to view the recording within a few minutes time or at a scheduled time. These times will be displayed at the time you click on the 'Register' button. Click on the image below to access the recording.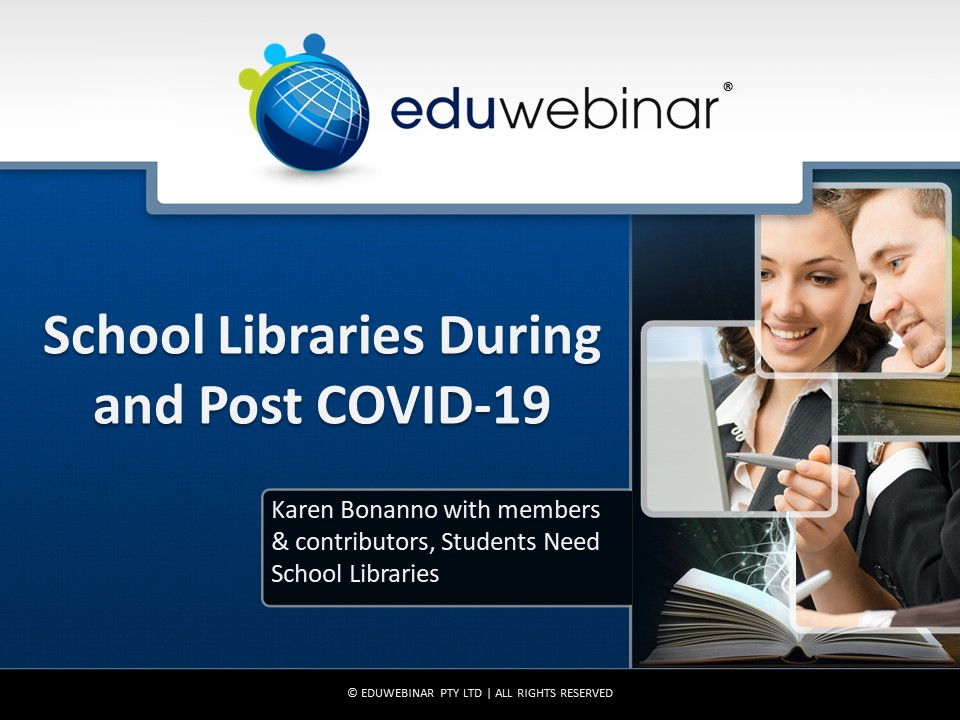 Resources referred to during the broadcast
School Librarians United Podcast, Episode 70 – Amy Hermon interviews Angie Miller
The School Library is Still Open! 10 Ways to Change Our Physical Spaces into Virtual Libraries – Angie Miller, Knowledge Quest
Your PLN: Source of Inspiration or Thief of Joy – Margaret Sullivan, Knowledge Quest
Students Need School Libraries 
Madison's Library – Book Reviews, Lists, Discussions and Displays
Miracles & Madness: Designing a connected learning library
Lori's E-Musings – Musings and developments in thinking, learning and teaching in an online world
Lake Tuggeranong College Library – Your window on learning
Facebook & Twitter connections
Eduwebinar – Facebook
Eduwebinar – Twitter
Maclean High School Library and Careers Services Centre – Facebook
Students Need School Libraries – Facebook
Students Need School Libraries – Twitter