Developing Future-Ready Skills Through Inquiry Learning
Karen Bonanno, Eduwebinar, and Leonie McIlvenny, Studyvibe
24 August 2020
You will need to register in our replay system to view this broadcast. You can choose to view the recording within a few minutes time or at a scheduled time. These times will be displayed at the time you click on the 'Register' button. Click on the image below to access the recording.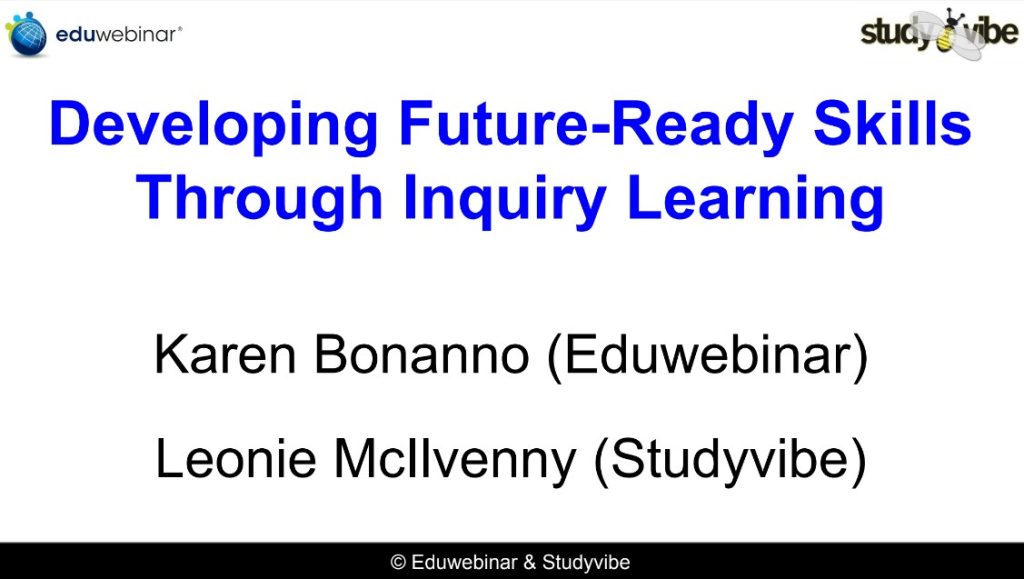 In these rapidly changing times, it's clear that our students will need new skills and ways to learn as globalisation, automation, and other economic forces revolutionise the way we live and work. We will need an innovative and resilient generation of young people who can navigate continuous change.
In January 2020, the World Economic Forum identified a global framework for shifting learning content and experiences towards a future-focused delivery of education to prepare students for their future.
Karen Bonanno and Leonie McIlvenny have been strong advocates for inquiry through their writings and work on Inquiry Skills Scope and Sequence, Future Skills Future Schools Future Libraries, and Transversal Competencies.
They have recently developed an inquiry & purpose-based microschool in response to the World Economic Forum White Paper, Schools of the Future: Defining New Models of Education for the Fourth Industrial Revolution. The microschool brings together four key components for being future-ready:
Learning how to learn, not what to learn, as an essential lifelong capability,
21st Century Skills development for creative & innovative thinking,
Authentic, real-life application of learning to become an active global citizen,
Development of character qualities for interpersonal & emotional wellbeing.
This free live and interactive webinar will explore:
inquiry as a framework to scaffold student-centred learning,
personalised & self-paced learning experiences,
problem & purpose-based learning,
future-ready skills integration.
Karen Bonanno is the Founder and National Director of Eduwebinar, an online professional learning portal delivering professional learning to teachers in the comfort of their own homes. She is based in North Brisbane and literally lives online as an educator. Her main area of work involves planning and hosting professional learning opportunities for educators with a specific focus on innovative teaching and learning strategies and resourcing as it applies to curriculum design and delivery. Karen has been acknowledged as a 'learning commons visionary', an 'edupreneur', and an 'exponential entrepreneur' by education and business colleagues for providing exceptional value to her clients. She has been a teacher, teacher librarian, head of department, acting deputy principal, regional adviser and state education officer, prior to commencing independent consultancy in 1994. She has over 40 years of experience working in government and non-government schools, professional associations and private enterprises.
Leonie McIlvenny is an educator with 37+ years of working and teaching from primary through to tertiary level. Inquiry learning has been central to her work with the introduction of digital technologies as a platform and mechanism for transformational learning. Developing digital resources to support teachers and students has been a key focus of her recent work with an emphasis on inquiry learning, study skills and digital literacy. Leonie began as a primary school teacher, then a teacher librarian in both primary and secondary schools in the public and private sectors in Western Australia.
This is a Teacher Identified Professional Learning Course. [Note: A certificate of attendance and the presentation slides can be downloaded at the end of the broadcast.]