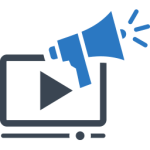 Library Learning Spaces Design Replay
with live interactive chat with your host, Karen Bonanno
Content presented by Anne Whisken, Head of Library, Carey Baptist Grammar School
[Note: As we are in Daylight Saving Time in Australia, please check the time of the webinar for your time zone.]
Library Learning Spaces exist in both the physical and digital. Design of one should echo the other in the sense that use of each is a deliberate choice after the question: what information or reading resource or physical space or eLearning technology or expert guidance best suits the learning that we want to take place?
Physical library spaces are the focus of this session, and although what you can do in your library differs according to budgets, the questions to be explored are similar, with the basic one being: what can I do with my spaces and furniture arrangements and collections to enhance the learning to take place in my school? Recent research and design of a new library plus several decades of making changes in existing libraries informs the presentation.
We will look at defining the learning that can take place in a library, the ways students prefer to learn, and how to design and arrange physical spaces to support that. Pre-thinking for this session: In your school library WWW: What Works Well already, what different library learning spaces does your school need and what are you prepared to give up to create those new spaces and arrangements?
Outcomes for attendee:
Understand the types of learning that can take place in a school library
Understand the spaces and arrangements that provide for that learning
Ability to analyse the strengths and opportunities in existing library spaces
Ability to develop a brief for changes in existing libraries or for design of new libraries
What previous webinar attendees had to say:
"Extremely useful information as I'm just starting the process of gathering ideas for a refurbishment. Has cemented some of my ideas and added others."
"I have had trouble pulling together research about this topic to support changes that I'd like to see in my library so I particularly appreciated seeing the range of references that referred to learning spaces."
"Presentation has given me some ideas to trial in my library e.g. regularly moving furniture etc."
"Very interesting overview and very informative about individual library spaces and how they worked for this library. I enjoyed the photos and the practical ideas, plus references to other resources."
Anne Whisken has been head of five large school libraries and conducted continuous research in all to change spaces and collections to meet the particular teaching and learning needs of each school community. Key to those changes has been validating what is good about existing library spaces, collections and staff and building on that to engage decision makers and the broader school. It has also involved changing views about school libraries and their collections from being places of storage to spaces for learning. Anne is as excited about the possibilities of a one room library to a multi-level 'community hub'.
For all States and Territories:
This webinar may address the following Australian Professional Standards for Teachers.
6.2.2 – Engage in professional learning and improve practice
6.4.2 – Apply professional learning and improve student learning
This is a Teacher Identified Professional Learning Course.
Please check the time of this event in your time zone at Event Time Announcer
[Subscribed members, please log in to register for this event. Your membership subscription includes access to this webinar.]