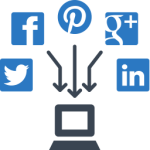 Digital Literacy, Skills Development and Curriculum Connections Replay
Content presented by Anne Mirtschin, ICT Teacher
This session discusses what is digital literacy and why it is an essential skill in the age in which we live. It also looks at skills required for digital literacy and the connections that Digital Literacy has to the AusVels curriculum and ISTE learning standards.
Outcomes for attendee:
Understand what digital literacy involves
Become aware of some of the skills involved in building digital literacy
Be able to map it to the Australian curriculum
Access to online resources
Anne Mirtschin is an award winning teacher who uses online tools to create powerful learning opportunities for students. Her journey into the amazing world of technology started with blogging 9 years ago. She teaches Information and Communications Technology(ICT), Business Management and at Hawkesdale P12 College. Anne is passionate about rural and global education, immersing technology into the classroom, eLearning and loves collaborating and learning online.
For all States and Territories:
This webinar may address the following Australian Professional Standards for Teachers.
3.3.2 – Using teaching strategies
3.4.2 – Select and use resources.
This is a Teacher Identified Professional Learning Course
Please check the time of this event in your time zone at Event Time Announcer
[Subscribed members, please log in to register for this event. Your membership subscription includes access to this webinar.]